Striving to provide top level products and service to our clients daily.
"Good, better, best. Never let it rest. 'Til your good is better and your better is best."
About Skyline Tinting LLC
"Making America more beautiful one window at a time." Skyline Tinting was founded by a few industry veterans who saw the need for a quality-driven, client-focused window film installation company in Tidewater. We're focused. We don't sell car stereos, wallpaper, paint or carpeting. Just window film. Every day. And, we're pretty good at it. Combined, our staff has 45 years of film installation experience to make sure the job is done right. 
Skyline Tinting LLC is an experienced window film installation company serving all of the Tidewater & Outer Banks areas.  We are a locally owned, 3M Window Films authorized dealer. Skyline's focus is providing outstanding window tinting services for all types of glass. Whether it be commercial, residential, automotive, marine or RV, we provide quality films and installation services.
Step 1
The installation process starts with the dealer thoroughly cleaning your windows to remove even the smallest pieces of dirt. A piece of film is cut roughly to the size of your window, its release liner is removed, and an application solution is sprayed on the film's adhesive to activate it. The application solution is also sprayed on the window.
Step 2
The film is then installed on the glass, and the installer squeegees all the application solution out from between the glass and film. The installer will also do some final edge trimming to ensure the film fits perfectly and precisely on the glass.
Step 3
When the installer squeegees out the application solution during installation, it is nearly impossible to get every drop of solution out. Thus there is a drying time (cure time) for the film, during which the remaining application solution between the film and glass evaporates. During this time, the film is still performing to its full solar control and safety capabilities.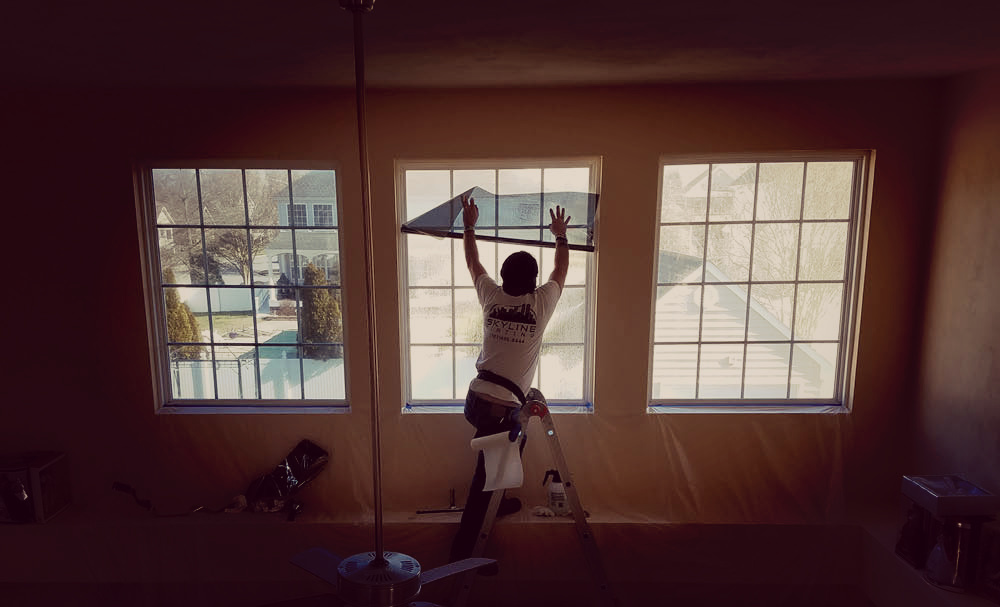 821 Juniper Crescent, Suite A, Chesapeake, VA 23320
757-695-8444 voice or text