Did you know that roughly 30% of all energy escapes through inefficient windows? With that being the case, it's no surprise that people are looking for ways to help keep their windows insulated to improve energy efficiency. Our company is proud to bring the equivalent of a winter jacket for your windows. 3M offers their innovative Thinsulate low-E technology in an insulating window film that helps keep outside temps out and comfort in. Check out just some of what this innovative film can do.
3M Thinsulate Window Film Controls the Climate – 3M Thinsulate Climate Control Window Film helps keep the warmth in during the winter and the cool conditioned air in during the summer — keeping the weather out where it belongs – all season, every season. It helps reduce cold/hot spots, improving overall comfort throughout your home.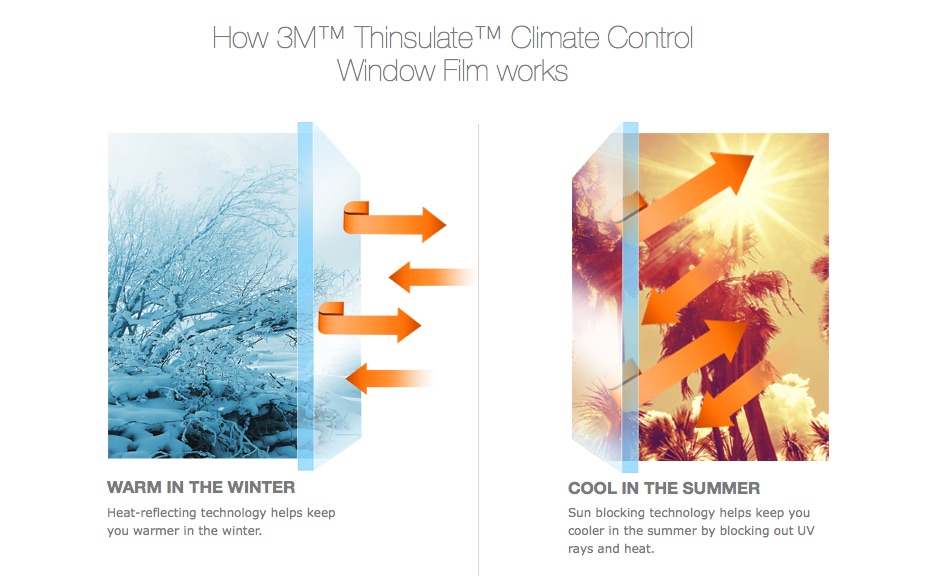 3M Thinsulate Window Film Increases Energy Efficiency – Your existing inefficient windows can enjoy the benefits of a Low-E or "Low Emissivity" window at a fraction of the cost of replacing your windows. Upgrade your existing windows to be more energy efficient by improving the insulation value of a single pane window close to that of a double pane window and the insulation value of a double pane window close to that of a triple pane window.
3M Thinsulate Window Film Maintains Window Appearance -A virtually invisible film that is professionally installed to the surface of your glass. It has a neutral appearance that will not dramatically change the look of your windows — inside or out. The Climate Control Series blocks up to 99% of UV rays, helping to protect artwork, furniture, hardwood floors, rugs and window treatments.
If you would like more information on how we can turn your existing inefficient windows into an energy efficiency solution, click HERE. If you have any questions or would like to arrange a free, no obligation quotation, please contact us today by calling (757) 695-8444 or emailing [email protected]. We service the entire Chesapeake and Tidewater areas of Virginia.